When I purchased Kat Von D's Mi Vida Loca palette, I also purchased 2 of her new Everlasting Liquid Love Lipstick.
Per the Sephora.com website:
"What it is:
A richly pigmented, long-lasting lip color that loves to make a statement.
What it does:
This long-wear lipstick from Kat Von D stains your luscious lips with striking color, from flashy brights to smoldering neutrals. The liquid formula goes on wet for smooth, precise application and then dries to a matte, velvety finish. Once applied, there's no need to worry about smudging or migrating.
Size: 0.18 oz"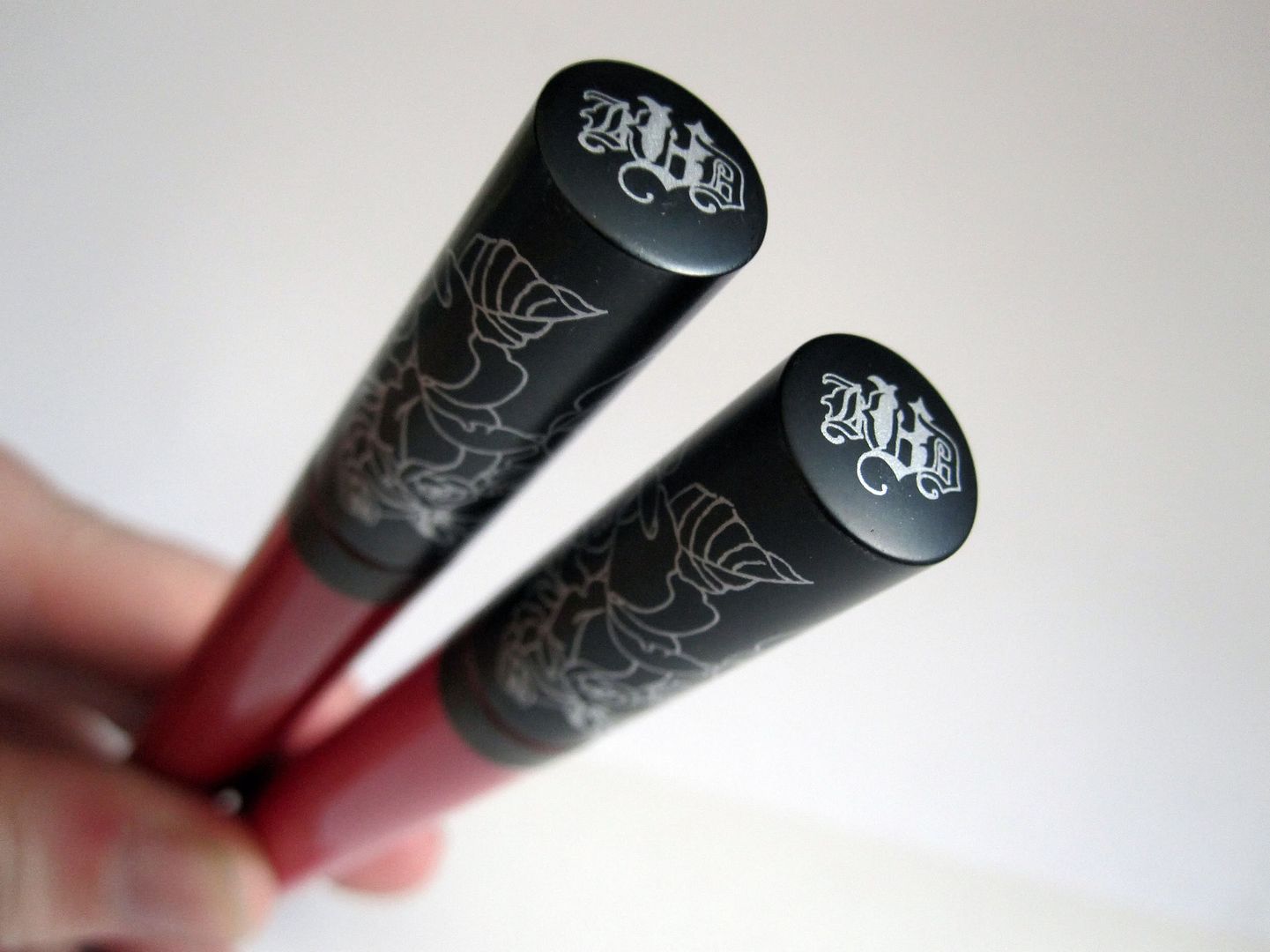 I chose Berlin and Outlaw. I'm a sucker for true reds. Both colours are true to description.
Berlin is described as a "warm rose". It looks a little pink in the tube, but it leans a rose/red - gorgeous colour.
Outlaw is described as "brick red". It's a blue based red which works so much better for me than orange based reds.
It comes in a thin tube with Kat Von D's signature roses on the black cap. The applicator is a doe foot, which is probably the best thing for this formula.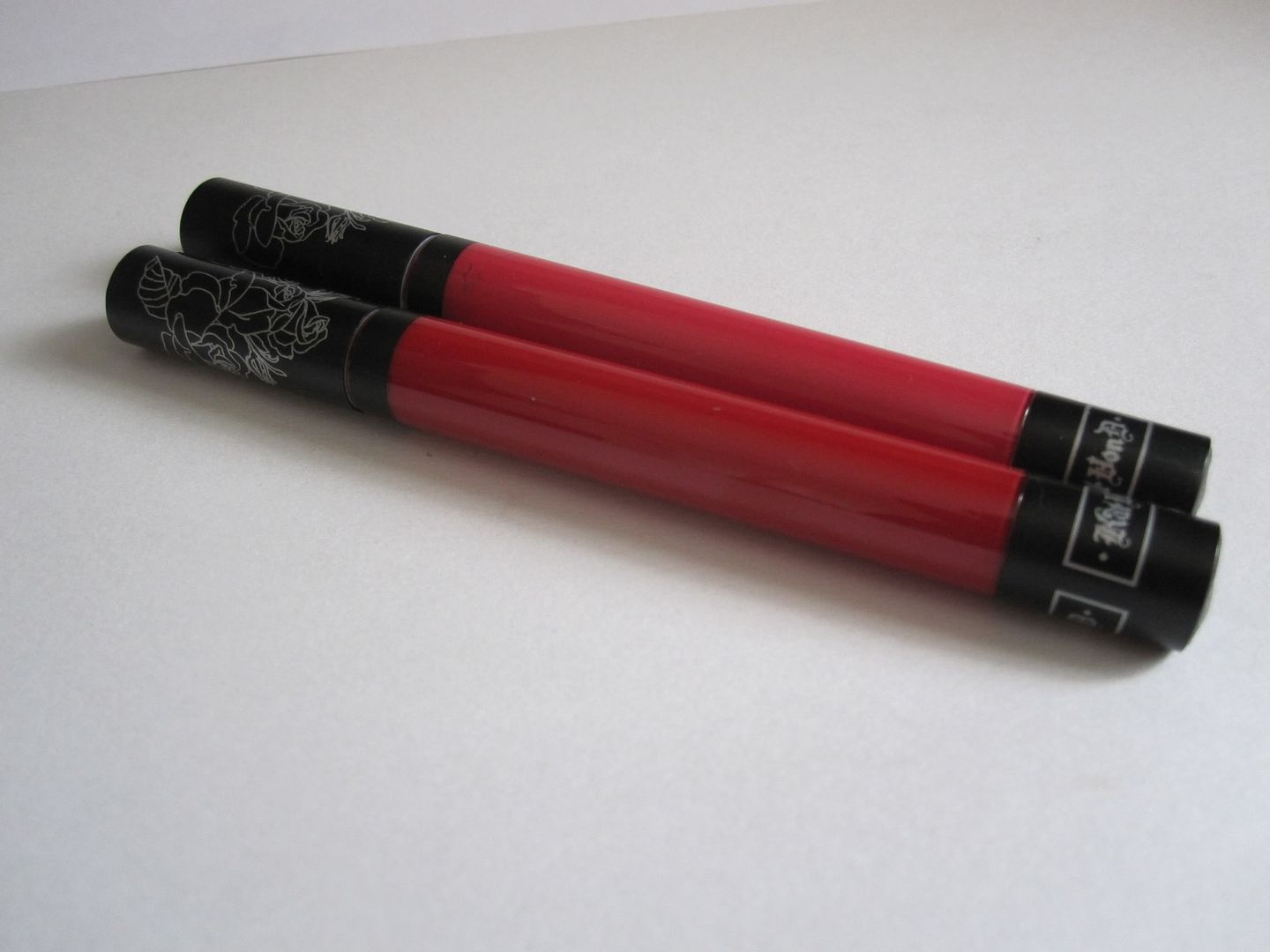 The first thing I notice when I apply the colour to my lips is how pigmented it is and that due to it's texture, you need to be very precise - which I lack the skill in this section.
The next thing I notice is that it dries very quickly (about 1 minute tops which is another reason for needing to be precise). I found it quite drying on my lips. It's not too bad if you apply a bit of lip balm underneath. Of course, winter never helps my lips which are horribly chapped all year long. Like it says, it dries to a matte, velvety finish.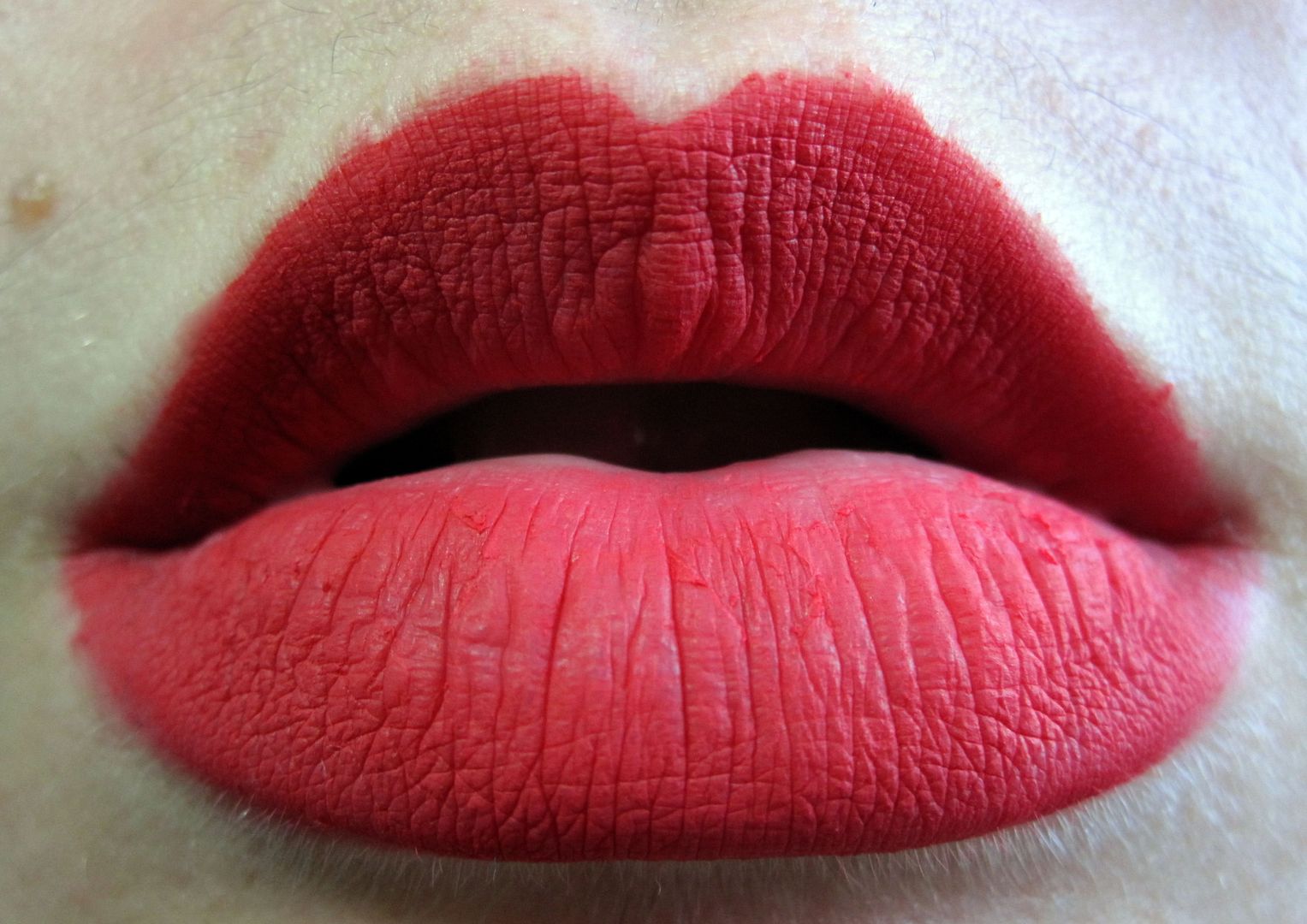 I applied a bit of lip balm over the colour (as I didn't have clear gloss). Once that was on, it felt and looked much better.
The colour transfered on drinking glasses almost each time, however it almost kinf of stains the lips so you probably won't notice it.
Since I work in an environment where I'm constantly on the phone (call center) and I'm always talking, I figured a good test would be to wear it to work. I applied it before heading out and it finally started to wear off about 4-5 hours later. It wore off in that annoying way where you still have colour on the outline of your lips but not so much in the center. I didn't bring it with me so I wiped it off. I used a lip scrub to help remove it as it takes more than just water and paper towel (I was at work!)
So while the staying power is definitely there, I think a lip pencil is beneficial for these (may help with precision).
The only problem I've really had with these (other than the drying and need to be more precise) is that when I put the applicator back into the tube, the liquid colour seems to want to pop out. Have to go very slowly and almost push the wand to the side to make sure it doesn't spill out and make a huge mess. This was only the one colour and only lasted 3-5 times. After that it was fine.