I casually walked into my local Sephora store while wasting some time before an appointment. When I turned the corner, there's a stack of Urban Decay Naked 2 palettes! For a while, I didn't think I was going to get it. But seeing it there in the store and knowing how crazy the original Naked craze was, I wasn't going to sit there and debate. And it's a good thing too. As I was leaving, I started talking to one of the girls that's there almost every time I go in. They just put it on the shelves the night before (after closing) and they were not going to operate a wait list! Good timing on my part :)
So, I want to compare the two a little for you, with my focus being on Naked 2 since that is the new one. I'm sure you've already read this plenty of times on other blogs, but maybe you like more opinions. Or maybe I'll go over something that they didn't. Who knows. Either way, I hope you enjoy!
1 - Packaging
Naked 2: tin case like the oldschool art cases we (at least I) used to own. The lettering is raised. I like the sturdyness to this style of packaging, however I feel like it may break. There are no hinges (which probably would have been better). Instead, the back piece that folds when you open/close it is plastic. It also has two little stub-like pieces that go into the case when you close it. While I haven't heard of anyone who's broken the case yet, this style of plastic used to break off my cases all the time when I was younger.
Naked 1: made of durable cardboard with velvet on the exterior and the letters printed in gold foil. Closes using a strong (but not crazy) magnet. Doesn't stay open quite as well as Naked 2, however don't think it would break either. The velvet's kind of annoying as fluff and dust accumulates on it.
Overall: They both have pro's & cons about them. If it was a tin case with hinges & magnet closure, it'd be a win for me!
2 - Extras
Naked 2
: In the tin you get a double ended brush, the Good Karma Shadow/Crease Brush. I personally do not like the shadow end of the brush at all. In my opinion, it's more of a concealer brush than a shadow brush. I like the crease end.
You also get a mini Lip Junkie gloss in Naked which is a neutral pink. It's a nice change from a mini Potion Primer. The label on my gloss was not only off-centered, but it also wasn't pressed down smoothly. When I purchased the palette, the Sephora rep asked if she could open up the package to make sure that I had the brush - apparently a store in Toronto has reported that some of them didn't have a brush. So, that combined with the label on my gloss makes me think that Urban Decay was trying to get as many palettes out the door as quickly as possible that they may have overlooked a few things once in a while.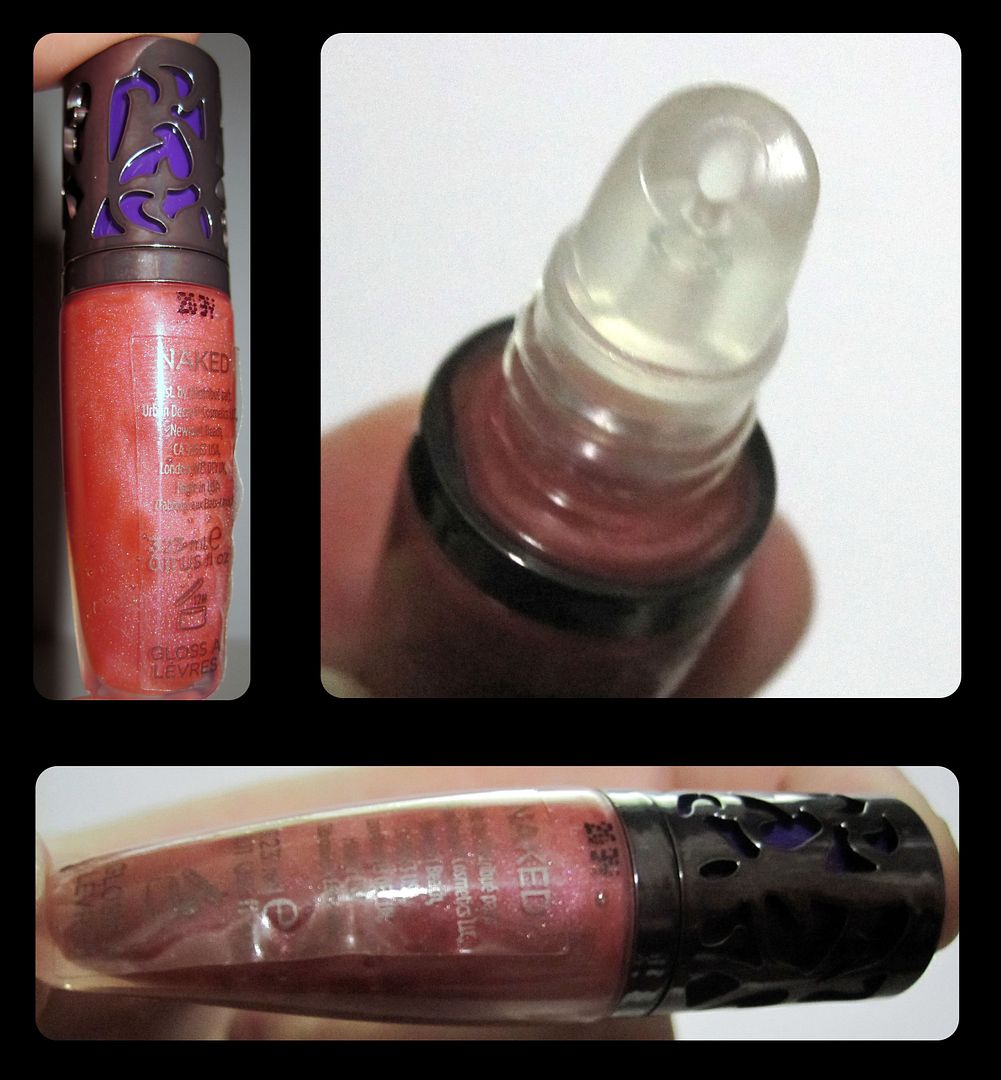 Naked 1: In the palette, you got either the 24/7 Eyelinerin Zero (if you were in the first few batches) or like me, you probably got the Good Karma Shadow brush. The brush end is slightly bigger than the one in Naked 2, however I dislike it just as much.
With this, you also get a mini Potion Primer. I love this stuff, but I've already gotten a few of them and just gave this to a friend.
Overall: While the Primer is more useful with the eyeshadows, it's really only great for people that don't already own a bunch of them. The double ended brush & the lip gloss are more beneficial to me.
3 - The colours (general)
Naked 2: Most of these colours are on the cool side with a few slightly warmer colours. There are 3 matte colours (Foxy, Tease & Blackout), 1 colour that contains microglitter (chopper) and the rest are shimmery colours. Half Baked shows up in both palette which is quite disappointing. I get that it's a really nice colour, but this is the third palette I've gotten it in. Other than that, I already own Chopper & YDK. I love YDK as a quick colour when I'm not feeling well and don't want to do anything, but don't want to look like a zombie either. My faves from this one are: Tease. Snakebite, Suspect, Pistol and Verve.
From the website:
Foxy (cream bisque with matte finish)
Half Baked (golden-bronze with shimmering finish)
Booty Call (shimmering cork)
Chopper (copper shimmer with silver microglitter)
Tease (creamy pale brown with matte finish)
Snake Bite (dark bronze shimmer with metallic base)
Suspect (pale golden beige with shimmering finish)
Pistol (light gray-brown with shimmering finish)
Verve (oyster with shimmering finish)
YDK (cool bronze shimmer with metallic base)
Busted (deep brown with shimmering finish)
Blackout (blackest black with matte finish)


Naked 1: These colours are warmer. It has 2 matte (Naked & Buck) and 2 that contain glitter (Sidecar & Gunmetal). The glitter in Gunmetal isn't too bad, meanwhile Sidecar has lots of fallout. The rest of the colours are shimmery. Other than Half Baked, it has Smog which I got in another one of their palettes previously. My faves from this one: Sin, Naked, Sidecar, Darkhorse and Toasted.
From the website:
Virgin (nude satin)
Sin (champagne shimmer)
Naked (buff matte)
Sidecar (beige sparkle)
Buck (brown matte)
Half Baked (bronze)
Smog (golden brown shimmer)
Darkhorse (bronze-plum shimmer)
Toasted (taupe-bronze)
Hustle (mocha shimmer)
Creep (near-black metallic)
Gunmetal (dark grey metallic)
4 - The colours (similarities)
Other than Half Baked which shows up twice, there are a few colours that are very similar between the two palettes.

(I'll always list Naked 2 colour first, then Naked 1 and swatches are on bare skin - NO primer)

Up first: Blackout vs Creep
Both are black, but as you can see, Blackout is matte, great colour payoff, while creep has some metallic to it and appears a little more grey unless you build it up.
Bootycall vs Virgin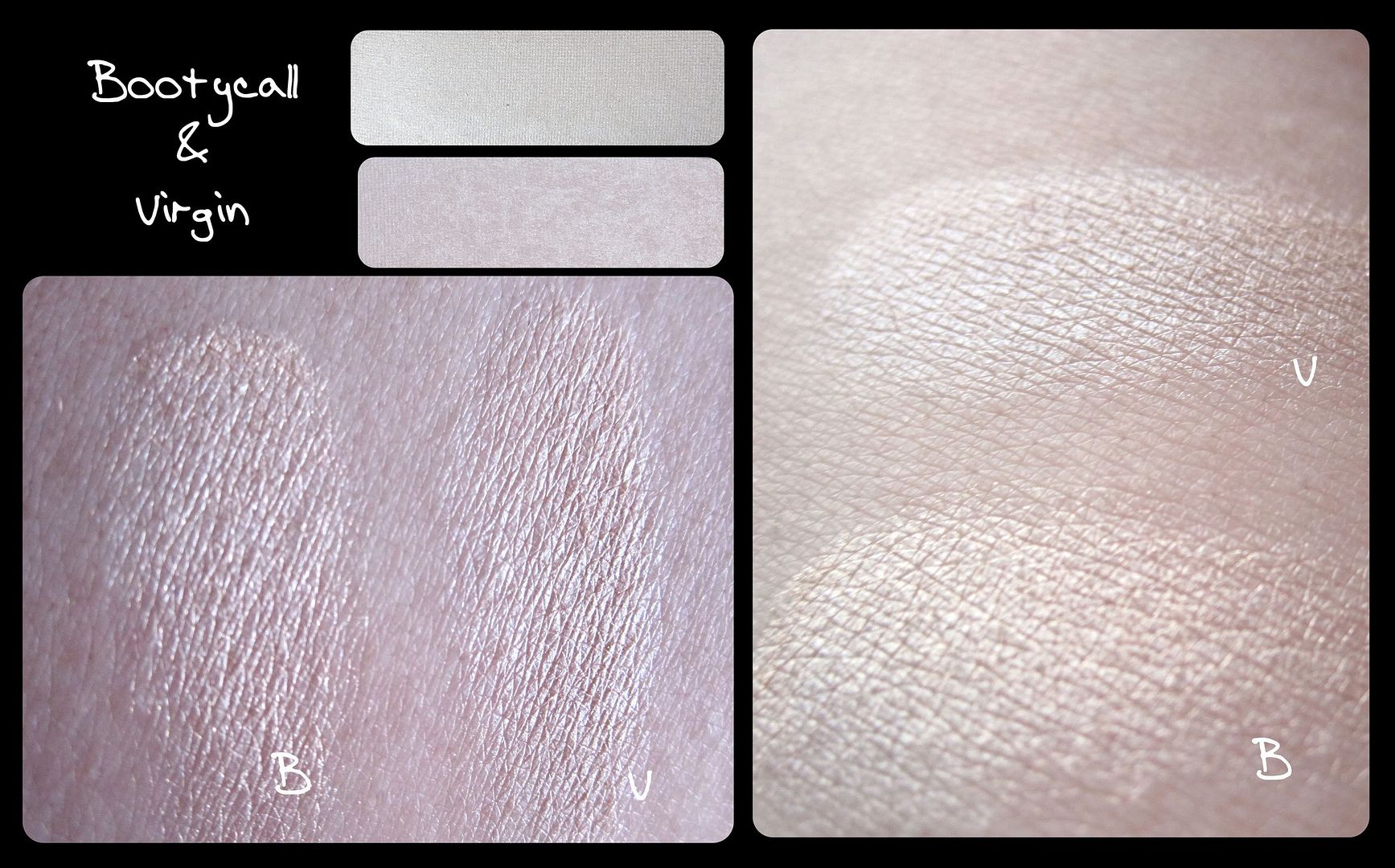 I'll admit, it's a little hard to tell from the swatches, but Bootycall pulls more cream while Virgin is a little more pink based. Both are great colours for highlighting and you'll find yourself going for both of them for different looks.
YDK vs Toasted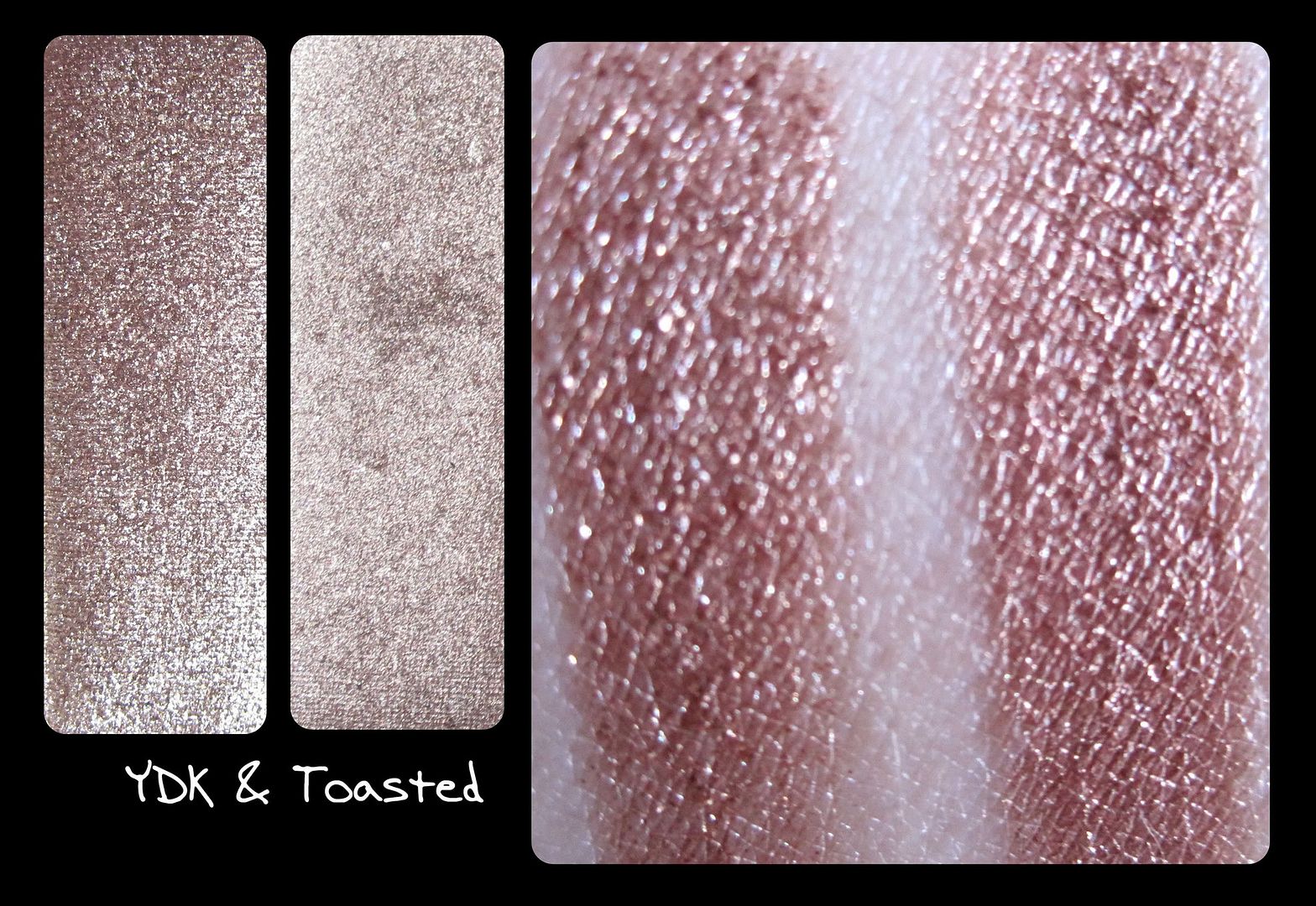 These two are very similar. Both pull bronze, but YDK more so than Toasted. I find Toasted pulls a little more pinky/taupe.
Busted vs Hustle
Didn't matter what I did, I couldn't crop the picture of the shadow in the pan without it looking identical or weird. So, Busted is a "deep brown with shimmering finish" while Hustle is "mocha shimmer". The descriptions are very similar and as you can see, the swatches are very similar as well. Busted is just a touch darker. But that's it.
The Verdict:
Naked 2 wins with the extras while Naked 1 wins with the packaging. That leaves the colours to the tie-breaker: Not gonna lie, I like them both equally. They are different and they can cater to different people. Or like me, a makeup junkie that fell in love with both. We'll see in a few months to see which I've reached for more often.
I leave you with some closeups and swatches from Naked 2.
Foxy, Half Baked, Bootycall
Chopper, Tease, Snakebite
Suspect, Pistol, Verve
YDK, Busted, Blackout
Please note: I bought both of these palettes with my own money. Opinions are my own.